Gov. Palin and Sen. McCain's campaign have spent so much time lately arguing about the sexist coverage and criticism of Sarah Palin that one can't help but wonder if all this is just stalling for time while she learns enough about foreign policy to be able to actually engage reporters and the public.
But if the campaign is going to complain about the supposedly rampant sexist coverage of Palin, then they should also work to undermine the sexism rampant in their own base. Although these people might be among the biggest supporters of Palin's bid for the VP, they do more to sexualize and discriminate against her based on her sex than does the media any day of the week.  I think these pictures can say more than I can for proof. Enjoy.
This one is my personal favorite. Female fans of Palin dressing themselves up in toy red lips, thus accentuating her most important quality (or qualification?).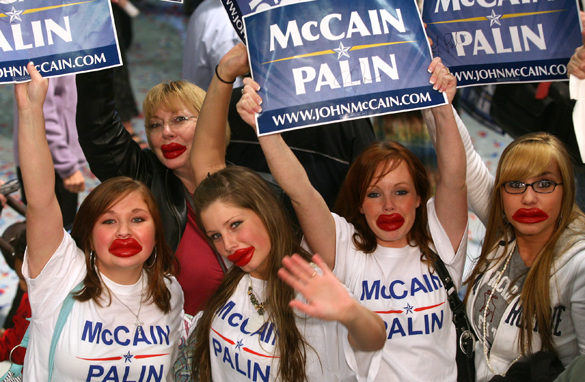 But let's not forget the bumper stickers being put out by some fans... "Vice President I'd Like to..." well, you know. And since Hillary got a nutcracker doll made of her, why shouldn't Sarah Palin enjoy some schoolgirl action?
Yeah, try again about who's actually perpetuating the sexist coverage of your candidate.